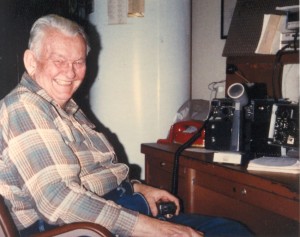 ACARC's first callsign was KF4NNV. Roy Tyack, one of the charter members of ACARC and an active member of club held the callsign W4YSB. Roy became a silent key in 1994. Shortly after that, the FCC opened up the vanity call system. Under that system, the club had to obtain a standard call (KF4NNV) but then could request any call that was open. In recognition of Roy's efforts and energetic support of ACARC, the club officers asked Roy's family if they could use his call as our club call. The family graciously agreed and the club requested and obtained W4YSB.
The following is from http://hamgallery.com/Tribute/W4YSB/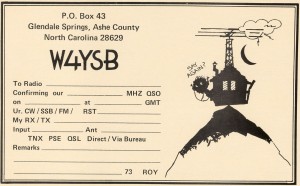 "W4YSB- W4 Young Sugar Baker" were the call letters from Leroy (Roy) C. Tyack's last home in Glendale Springs, NC. That retirement location was chosen for its natural beauty and its elevation of 3000 feet, ideal for talking to other hams around the world.
Roy was born in Waterbury, Connecticut on January 9, 1904. At age 9 or 10 he purchased a vacuum tube from the Electro Importing Company in New York, which is believed to be one of the first constructed by Dr. DeForest. Later in life he donated it to the Franklin Institute in Philadelphia. He and a friend of similar age constructed a wireless set, using a circuit plan they found in "The Electrical Experimenter". With a storage battery, an annunciator wire-wrapped oatmeal box, and a T-model Ford spark coil for a key, they amazed themselves by succeeding in building a one-tube receiver powered by flashlight cells laboriously soldered in series.
Roy got his first license at 16 in 1920 from the FCC, before 'talkies' in amateur radio. He received signals from the D.C. and Brooklyn Naval Yards, picking up the 10:00 p.m. news flashes to ships at sea. Streaming out at a steady 18 words per minute, the dispatches allowed him to bone up on Morse code.
He attended Northeastern University in the 1920s and lettered in basketball. His name is still listed on the Northeastern web site. After receiving a degree in electrical engineering from Northeastern University, marrying Ruth Edgerly Tyack in 1927, and taking a honeymoon camping trip from Boston to San Francisco and back in a model T Ford, one of his first jobs was installing sound equipment in movie houses around the Southwest for the Electrical Research Products Inc. (ERPI), and later the Altec Company, often hanging precariously high in the domes of theatres. Living in Tulsa, Ok in 1928 and scanning the continent for conversation, Roy suddenly reached the end of civilization – Antarctica. A weatherman with Admiral Richard E. Byrd's polar expedition locked on to Roy's signal, W5BAT, anxious for news from his Norman, OK family. Roy brought the boy's parents to his home for a chat with a son they hadn't heard from in months.
During WW II Altec morphed into the Bell Labs system, and Roy joined Western Electric and became one of the first to repair the highly secret new radar on ships in Puget Sound and the Pacific. U.S. Navy records list Leroy C. Tyack, Western Electric representative, as being aboard the new destroyer escort U.S.S. George A, Johnson in 1944. It was a memorable thrill for him to be catapulted at times from battleship to battleship in the Pacific during the war. Transferred to the Manhattan WE offices after the war, he and his wife and two daughters lived in New Jersey, where his call letters were W2BAT. Roy kept in touch with a ham friend in England, and with some of his family who had become separated and were unable to communicate with each other, and he was able to reunite them at war's end. The two families were friends for the rest of his life and, through the years, occasionally traveled to visit each other in person.
Transferring again in 1952 to the new Western Electric plant in Winston-Salem, NC, becoming W4YSB, he was Superintendent of the Field Engineering Forces, a worldwide engineering component of military and peacetime communications. He retired in 1962 after 33 years with WE and was a proud member of The Telephone Pioneers of America and The Institute of Radio Engineers. From an enthusiastic little boy with his brand new vacuum tube to his final work in satellite communications, it had been a long, vitally important and exciting career.
When he and Ruth retired to the Blue Ridge mountains of NC in 1963, he was the only active ham operator in Ashe County and he had a large part in creating the Ashe County Amateur Radio Club, which is still an active colony of hams. He very much enjoyed hosting the annual Field Days at his home. One winter the club was the only communication working during and after a tremendous ice and snowstorm in those mountains, and they were able to help rescue people and arrange transport of supplies. One summer morning, at age 90 in 1994, Roy was talking on his usual radio schedule to a ham friend of many, many years when his old heart failed, ending nearly a century of extraordinary amateur radio enthusiasm.
Courtesy of Roy's daughters:
Cynthia Tyack King, Morgan Hill, CA,
Virginia Tyack, Richmond, VA
1ARW Callsign from 1921-1923 and 1928 "callbooks" courtesy of W5KNE
Additional info added courtesy of W5KNE