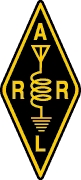 The purpose of the Ashe County Amateur Radio Club is to promote fellowship and good will in the Radio Amateur Community and to provide communications in times of emergency for our community, our state, our country, and even the world through the Amateur Radio Emergency Service (ARES). We help with training and provide testing for Amateur Radio licenses through the Federal Communications Commission (FCC) Volunteer Examiner (VE) program. Tests by our VE team for all 3 classes of Amateur Radio licenses are made available as requested for new applicants and to upgrade existing licenses.
Anyone with an interest in Amateur Radio is invited to attend our meetings even if you do not presently hold a license. If you have any questions, please reach out to any of our club officers for information concerning the club or the Amateur Radio community.
The Ashe County Amateur Radio Club is an American Radio Relay League Affiliated Club.
Every year on the last weekend in June, the American Radio Relay League (ARRL) provides an opportunity for each ham to test his/her readiness to handle emergency situations. The object is to see how many contacts can be made using our radio equipment under emergency conditions. Anyone with a license can contribute using their equipment at their home station but additional points are given for moving the equipment to a place where there is no commercial power and the antennas and radios must be brought in and set up to use. Many HAMS use generators or batteries. There are even some enterprising HAMS who use more exotic types of power generation like wind, water and solar. Every MODE of communications can be used from CW (Morse Code) to SSTV (Slow Scan TV). Some MODES are worth more points than others.
Each year, the Mountain Century Flyers in conjunction with the Ashe County Civic Center sponsors a 100 mile biking event called the Brutal 100. The event has grown in popularity since its inception in 1990. ACARC works hand in hand with the Brutal 100 personnel to help coordinate the event by providing communications links at the refreshment stops, SAG wagons and net control.
SET(s) Simulated Emergency Tests
As members the Amateur Radio Emergency Service (ARES), we do our best to be ready for any emergency that might arise. To help us prepare for emergencies, we simulate scenarios that will test our readiness to handle communications in the county under many different situations.. Since Ashe County is rather sparsely populated, we are working on devising a plan to provide communications when there are medical and life threatening situations coupled with power outages and interruption of phone service. The county has experienced these types of situations a number of times in the past due to hurricanes, flash floods and other natural disasters. We are a member of the Ashe County Emergency team.
ACARC as member of ARES also contributes and supports to the statewide SETs that occur during the year. Through the use of personal radio equipment and power systems, we can provide communications for the county and it's residents to the rest of the state when communications are disrupted.